2014
Introductory R for Spatial Analysis and Visualisation, Leeds, January 24 2014
This one day workshop introduced the basics of how R can be used for spatial data.  R is now a widely used open source software platform for statistical analysis and is increasingly popular for those working with spatial data thanks to its powerful analysis and visualisation packages. 
Given the demand for R training, this event will likely be run again. A video of Robin Lovelace's introductory lecture is available on you-tube for those looking to get a better sense of what the course is about.
2013
4th General Conference of the International Microsimulation Association, Canberra, Australia, 11 to 13 Dec 2013
Mark Birkin presented a paper (jointly authored with Kirk Harland) entitled 'Simulating retail demand at the individual level: stage 1 demand synthesis'.
20th International Congress on Modelling and Simulation, Adelaide, Australia, 1 to 6 Dec 2013
Mark Birkin presented a paper (jointly co-authored with Kirk Harland, Nick Malleson and Dave Martin entitled 'Microsimulation of daily movement patterns in a British city'.
Hacking the Smart City, London, 7 to 9 Nov 2013
CASA held its first hackathon on 7-9 Nov at UCL as part of ESRC's Festival of Social Science and the Talisman project. CASA researchers Steven Gray, Richard Milton, Ed Manley and James Cheshire were part of a team that led seven smart city challenges. These challenges were tackled by teams of 4 to 10 people each, which included the development of a well-being city indicator; analysis of big data on cycling; mapping Twitter data; the development of a flood alert system; mobile gaming in the city; new functionality for Pigeon Sim; and a portal for the NHS that brings together multiple data streams.
University of Tennessee, 24 Oct 2013</span
Mark Birkin gave a visiting lecture at the Department of Geography, University of Tennessee entitled 'Urban simulation modelling with big data: progress and prospects'.
Oakridge National Laboratory, 22 Oct 2013
Mark Birkin gave an invited talk to the Computational Sciences and Engineering Division at Oakridge National Laboratory entitled 'Urban dynamics: an approach using demographic simulation'.
Future Cities and Digital Technologies, Smart Cities Conference, London, 27 Sep 2013
Andrew-Hudson Smith, Mike Batty and Richard Milton presented at the event. There was a twitter hashtag of "#casacities" and the event was streamed live to Google Hangouts and YouTube. Approximately 300 people attended the event.
Hacking the City, London, 26 Sep 2013
This half-day workshop provided a practical introduction to sources of data about London that are now available through Open Data initiatives and public APIs (Application Programming Interfaces). Partipicants were taught how to extract data from social media sites like Twitter and how to download data from other sources, e.g.weather data from the UK Met Office and Weather Underground's web services, and how to use TfL's real-time APIs for the bus, riverboats and tube.
Visualising the City with GIS, London, 26 Sep 2013
This half-day workshop provided a hands-on introduction to Geographic Information Systems (GIS) using the open source Quantum GIS software package. This workshop taught users how to load and visualise data from a variety of different sources in order to create simple but effective visualisations of urban spatial data, e.g. open data from Transport for London, data from the UK census, weather data, and social media such as Twitter.
Built Environment 2 (Be2) Awards, London, 25 Sep 2013
Andrew Hudson-Smith was a keynote speaker at this event, designed at helping industry to think about and deploy web tools and techniques. Andrew presented on the topic of Sensing, BIM and Social Data.
Association for Geographical Information (AGI), London, 17 Sep 2013
Andrew Hudson-Smith was a guest speaker and presented on the topic of Big Data and Smart Cities.
European Colloquium of Theoretical and Quantitative Geography, Paris, 5 to 8 Sep 2013
Mike Batty, along with other top quantitative geographers, kicked off the colloquium with a discussion session. Mark Birkin, Nick Malleson and Alison Heppenstall convened 18 papers in a number of sessions devoted to agent-based modeling. Among the papers presented were: Mark Birkin and Nick Malleson, Identifying anchor points in crowd-sourced social data; Holly Shulman, Mark Birkin, Graham Clarke, Need versus provision in the location of Health Care Facilities; and  Chengchao Zuo, Mark Birkin, Nick Malleson: A spatial microsimulation model of infrastructure demand with household change and behavioural adjustment.
RGS/IBG Annual International Conference, London, 28 to 30 Aug 2013
Members of the Talisman team attended the RGS. Alison Heppenstall and Nick Malleson organised two sessions on 'Modelling for Policy' where a paper by the Leeds Talisman team was presented, entitled 'Geo-spatial restructuring of industrial trade'. Prof John Stillwell also presented a paper entitled 'IMAGE studio: An advanced framework for analysing and modelling internal migration' in a session on 'Spatial analytical approaches to population geography'.
IGU Kyoto Regional Conference, Kyoto, 4 to 9 Aug 2013
Mark Birkin presented a paper entitled: 'Simulation of urban movement patterns with crowd- sourced data.'
Essex Summer School in Social Science Data Analysis, University of Essex, Wivenhoe Park, Colchester, 22 Jul to 2 Aug 2013
Michael Thomas attended the summer school.
Joint AESOP-ACSP Congress,  University College Dublin, 18 Jul 2013
Mike Batty gave a keynote address entitled: Smart Cities and Big Data: how we can make cities more resilient to crises. His talk can be viewed online at: http://www.youtube.com/watch?v=cdZYDKQmias&feature=youtu.be
Information Visualisation 2013, London, 18 Jul 2013
Andrew Hudson-Smith was a keynote speaker at this event and presented a paper entitled Smart Cities, Big Data, Social Networks and the Internet of Things.
GEOG-AND-MOD 2013, International University, Ho Chi Minh City, Vietnam, 24 to 27 Jun 2013
Mark Birkin delivered a paper which he co-authored with Kirk Harland and Nick Malleson entitled 'The Classification of Space-time Behaviour Patterns in a British City from Crowd-sourced Data'.
LSEbigdata Workshop: New Business Models in the Digital Economy, London, 19 Jun 2013
Steven Gray attended to discuss the challenges in Big Data collection and analysis.
IGU Conference 2013, Leeds, 29 May to 2 Jun 2013
This event was hosted by the Centre for Spatial Analysis and Policy at the University of Leeds. TALISMAN delivered sessions at the conference and presented the following papers:
Estimating Disease Prevalence Using Spatial Microsimulation and Londitudinal Data Analysis  – Stephen Clark, Alison Heppenstall, Mark Birkin
A microsimulation model to explore hospitalization rates in Yorkshire, UK – Holly Shulman, Mark Birkin, Graham Clarke
Geodemographics: Creating a Classification at the level of the Individual – Luke Burns, Mark Birkin, Alison Heppenstall, Linda See
Optimising an Agent-Based Model to Explore the Behaviour of Simulated Burglars – Nick Malleson and Alison Heppenstall
ABM for Education Planning –  Kirk Harland and Alison Heppenstall
Early Modern Human Dispersals – Andy Evans, Alison Heppenstall and P Spikins
Spatio-Temporal Text Mining –  Nick Malleson and Mark Birkin
Modelling individual movers – Michael Thomas, Myles Gould and John Stillwell
Mark Birkin presented a keynote speech entitled: 'Agent Based Models of Geographical Systems'.
British Library Hack Event, British Library, London, 28 to 29 May 2013
Steven Gray attended this event aimed at examining the opportunities and challenges of data-driven business models in the digital economy.
GeoComputation, Wuhan China, 23 to 25 May 2013
This conference was organised by State Key Lab of Information Engineering in Surveying, Mapping and Remote Sensing (LIESMARS) at Wuhan University. The event aimed to highlight diverse methodologies and technologies with the potential to enrich future developments in GeoComputation. Mark Birkin presented a paper entitled: 'The Spatial Analysis of Short-term Population Movements with Social Media Data',  while Andy Evans presented on 'Optimising an Agent-Based Model to Explore the Behaviour of Simulated Burglars'.
Talk by Prof Arthur Getis, University of Leeds, 23 Apr 2013
Renowned spatial analyst, Professor Arthur Getis from San Diego State University gave a talk at the University of Leeds entitled 'A Rogue's Gallery of Spatial Autocorrelation Revolutionaries'. Art has been a leading light in methodologies centred on pattern analysis and spatial autocorrelation for over 40 years.
Blurring the Boundaries – New Social Media, New Social Science?, NSMNSS Conference, Royal Statistical Society, London, 16 Apr 2013
Dr Andy Hudson-Smith presented on 'collecting and analysing social network data from social media' and CASA researcher Steven Gray also attended.
Intel Depth Cam, London, 11 to 12 Apr 2013
CASA researcher Steven Gray attended this event.
Perceptual Computing Workshop, Urban Prototyping Festival, Imperial College, 11 to 12 Apr 2013
Dr Andy Hudson-Smith attended the workshop.
Association of American Geographers Meeting, Los Angeles USA, 9 to 13 Apr 2013
Prof Mark Birkin contributed to a theme on 'Capturing Population Dynamics' with the presentation of a paper titled: 'Exploring Population Dynamics with Crowd-Sourced Data'. He also convened sessions on 'Simulation Modelling of Geographical Systems'.
Kirk Harland presented work examining the combination of spatial microsimulation and Agent-Based modelling to a themed session on Agent-Based Modelling called 'Using Synthetically Generated Populations in Agent-Based Models'.  This modelling process will feed into joint work with Southampton.
Planes, Trains and Drains: London's Booming Infrastructure Business' Exhibition, London,  28 Mar to 25 May 2013
City Dashboard is on display at the 'Planes, Trains and Drains: London's Booming Infrastructure Business' Exhibition at The Building Centre, 26 Store Street, London. The Greater London Authority has sponsored the use of the dashboard at the exhibition.
UCL/Brunel/KCL Open 2013 Event, London,  19 Mar 2013
Researchers from CASA presented a talk entitled: 'Data: Living in the Cloud'.
TEDx Event, London School of Economics, London, 9 Mar 2013
Researchers from CASA gave talks at the Social Media Mining workshop as part of this event and showcased the Pigeon Sim and London Data Table.
Computational and Transformational Social Science,  Oxford University, 18 Feb 2013
Mark Birkin took part in this round table meeting, aimed at exploring the way in which e-Science investments are able to respond to grand challenges.
London Resilience Academic Partnership Meeting, London Fire Brigade Training Centre, 5 Feb 2013
Meeting with the GLA, Fire Brigade and other university representatives (Kingston, UCL, Kings, RUSI). the main interest in the Talisman project is the real-time city and data visualisations to detect problems.
Data Linkage and Anonymisation Scoping Meeting, Isaac Newton Institute, University of Cambridge, 16 to 18 Jan 2013
This event attracted participants from academia, commerce, government, from social sciences, mathematics and computing, and from North America, Europe and Australia.  The agreed outcome of the meeting was to prepare the case for a full programme at the Isaac Newton Institute in 2015.
The NCRM Annual Meeting, Windsor,  10 to 11 Jan 2013
A UCL and Leeds Talisman team attended the NCRM's Annual Meeting in the very tranquil setting of Cumberland Lodge, located halfway between Windsor and Egham. In between lovely meals, coffee breaks, lots of networking and a royal tour of the lodge, we viewed the latest presentations of ongoing research from a range of NCRM node members. We also debated issues such as the ethics of using volunteered data (e.g. twitter), the advantages and disadvantages of preparing training in a distance learning format, and how to effectively document impacts from the training that we undertake. Prof Mark Birkin of the University of Leeds gave a talk on the work that his team has undertaken on analysing twitter.
Doctoral Colloquium, Copenhagen, 9 to 11 Jan 2013
This colloquium was designed to bring together PhD students and supervisors from the UK and abroad to align methodological contributions. Twelve postgraduate students from the UK (from Leeds, UCL, Reading, Southampton and Sheffield) were accompanied by two academic staff
members from the School of Geography at the University of Leeds.  Eight representatives of the faculty and postgraduates from the University of Copenhagen also made presentations.
2012
ACUMEN: Assembly of Comparative Urbanisation and the Material Environment, International Workshop, Leeds, 12 to 13 Dec 2012
Recent developments in digital data compilation and computational analysis contribute to our understanding of urbanisation processes at differing scales. However, comparative methodologies for research throughout history and across the globe are lacking. This workshop gathered international multidisciplinary researchers who use, in complementary ways, 'spatial technologies' and 'digital tools' to explore urban landscapes of both past and present. The aim of the workshop was to promote the development, methodological understanding, and identification of appropriate digital means for social urban investigations by bringing together a currently dispersed community for future collaborative research. Organised as a TALISMAN event, salon discussions were held around three themes:
Data acquisition, management and digital compilation
Methodologies for social and temporal analyses of urban landscape data
Social scientific purposes for the study of urban landscape development
Smart Cities: Bridging Physical & Digital, Leeds City Musem, 8 to 11 Nov 2012
The Smart Cities UCL exhibits were shipped north to Leeds City Museum for this 'northern' smart cities event. Local businesses, government agencies and research organizations were invited to a preview of the exhibits on the evening of 8 Nov 2012. The exhibit was then opened to the general public for two days (9 to 10 Nov 2012) where more than 1,500 people attended. Click here for more information….
Annual North America Meeting of the Regional Science Association International (RSAI), Ottawa Canada, 7 to 9 Nov 2012
Didier Leibovici represented TALISMAN and presented a number of papers including those on space-time analysis.
TeenTech with Maggie Philbin, Folkestone, 25 Oct 2012
PigeonSim was used as a featured exhibit for children aged 8 to 9 years old.
Smart Cities Exhibition, Building Centre, Bloomsbury, 20 to 21 Oct 2012
Another 'smart cities' exhibit was held in London.
Meeting on Olympics Disruptions, London, 11 Oct 2012
Prof Mike Batty presented TALISMAN-related work entitled 'Modelling Disruption in Large Scale Transit Systems'.
Demographic User Group Conference 'Retail Issues, Big Data and Research', The Royal Society, London, 10 Oct 2012
Prof Mark Birkin was a panel member at the conference which was attended by more than 100 representatives of commercial and public sector organizations.
CGG Seminar Working Party, Generating Value from the 2011 Census, 19 Sep 2012
Richard Milton and Ollie O'Brien gave presentations on visualisation and related data.
Conference of the European Social Simulation Association, University of Salzburg, 10 to 14 Sep 2012
Prof Mark Birkin gave an invited keynote talk on geosimulation while Dr Nick Malleson presented another update on modelling social networks and interaction patterns in cities.
British Society for Population Studies Annual Conference 2012, Nottingham, 10 to 12 Sep 2012
Michael Thomas presented a paper entitled 'Introducing Axiom's ROP data for the analysis of internal migration in Great Britain' in the conference's Migration Strand.
ENRGHI, UCL Department of Epidemiology and Public Health, London, 10 to 11 Sep 2012
Stephen Clark gave a presentation about his proposed area of study at this conference organised and presented by other PhD students from the UK and abroad.
ECCS'12 Conference on Complex Systems, Brussels, 3 to 7 Sep 2012
Dr Nick Malleson gave a talk on the analysis and modelling of urban movement patterns using social media while Prof Mike Batty presented a paper entitled 'Disruptions in Large Scale Transit Systems'.
European Regional Science Association Congress, Bratislava, 21 to 25 Aug 2012
Prof Mark Birkin presented papers on location optimisation of waste recycling plants and socio-demographic profiling of the UK population.
Logica Big Data Workshop, 22 Aug 2012
Steven Gray presented at this workshop on the challenges and utilisation of Big Data and the Semantic Web. Logica gave some insight into how they approach big data challenges using clustered cloud computing and what challenges they faced.
Modelling World Conference, London, 11 Jul 2012
TALISMAN was represented in a keynote presentation by Joan Serras of CASA. The London Data Table and the Urban Modelling Touch Table were also part of this modelling exhibition held at the Oval.
The ESRC Research Methods Festival, Oxford,  2 to 5 July 2012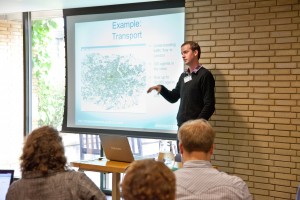 TALISMAN was well represented during the festival with members presenting at three sessions. A CASA-led session looked at new methods for data collection, while a Leeds-led session examined new methods for spatial modelling, simulation and policy analysis. Talks from Talisman team members included:
Annual International Conference of the Royal Geographical Society, Edinburgh, 3 to 5 July 2012
Prof Mark Birkin and Dr Alison Heppenstall convened sessions on 'Enhancing Complex Social Simulations and modelling for Policy' at the RGS annual meeting.
World City Summit, Singapore, 1 to 8 July 2012
Prof Mike Batty presented talks on the London land use transport model in two sessions on complexity and cities in relation to waste management.
Launch of the Crime, Policing and Citizenship Project, UCL, London, 18 May 2012
Prof Mark Birkin gave a talk at this launch event entitled 'Spatial microsimulation and crime analysis'.
Beyond 2011, Northern Ireland Statistics and Research Agency, Belfast, 9 May 2012
Prof Mark Birkin presented a paper entitled 'The potential of simulation for administrative data and social research'.
White Rose Doctoral Training Centre (DTC) Annual Conference, York, 2 May 2012
Prof Mark Birkin gave a presentation entitled 'The Turn to Geospatial'.
CASA Smart Cities Conference, Senate House, London, 20 Apr 2012
The conference attracted more than 350 people and focussed on research methods and the work of the TALISMAN node. The event's success was reported in the media (The Guardian) and prompted UCL to re-run the event at Leeds City Museum in Nov 2012 (see above) as part of ESRC's Festival of Social Sciences.
ESRC-ONS Beyond 2011 Seminar: Small Area Estimation, London, 16 Mar 2012
Prof Mark Birkin presented a session entitled 'Small Area Estimation from Unconventional Data Sources'. The focus of the seminar was on meeting future user needs for small area socio-demographic data. This was one of a series of seminars designed to bring together academic researchers whose methodological research and application experience has the potential to inform the work of the Census Programme.
Leeds City Council, Leeds, 8 Mar 2012
'UK Housing Benefit Reforms' Impact on Leeds: A Spatial Analysis' was presented by Prof Mark Birkin to Leeds City Council to engage non-academic users in TALISMAN-relevant research.
Association of American Geographers (AAG), Annual Meeting, New York, 23 to 28 Feb 2012
Staff from CASA (Prof Mike Batty), CSAP (Dr Alison Heppenstall, Prof Mark Birkin) and George Mason University (Dr Andrew Crooks) jointly organized 9 sessions on agent-based models and geographical systems at the AAG. The TALISMAN team also gave a number of presentations including:
Prof Mark Birkin: use of twitter data in modelling
Dr Alison Heppenstall: an agent-based modelling framework
Prof Mike Batty: a historical overview of agent-based modelling and recent work
Dr Andy Evans: the ethics of agent-based modelling and prediction
Complexity Science for the Real World (CSRW) Workshop on Migration Modelling, University of Southampton, 16 Feb 2012
Prof Mark Birkin gave a presentation entitled 'Local Housing Markets, Dynamic Microsimulation and Daily Movements'. The workshop was aimed at facilitating communication and joint activities amongst four EPSRC social complexity projects and between experts on migration and modellers.
Digital Social Research National Experts Meeting, University of Oxford, 1 to 2 Feb 2012
Prof Mark Birkin attended this meeting, which consdered the role of digital social science in the next five years, and gave a short talk entitled 'Envisioning and Embedding of Social Research Practices'.
FutureICT CrimeEX Meeting, Rome, 24 to 28 Jan 2012
Dr Andy Evans attended this meeting in order to explore the potential of establishing a 'Crime Exploratory' using ICT, Complexity Science and the Social Sciences to understand and manage crime. At the meeting, Dr Evans presented work on the agent-based modelling of burglary to an audience of academics and crime prevention / justice practitioners.
2011
Complex City Workshop, Amsterdam, 5 to 6 Dec 2011
Prof Mike Batty, Prof Alan Wilson and Dr Nick Malleson all gave presentations on their research and chaired sessions at the Complex City Workshop organised by the Vrije Universiteit and the Tinbergen Institute:
Birkin, M. and Malleson N. 2011. Microscopic Simulations of Complex Metropolitan Dynamics
Batty M. 2011. Spatial Complexity.
Fry, H. and Wilson, A. 2011. A Dynamic Global Trade Model with Four Sectors
Medda, F. and Wilson A. 2011. A Model of Urban Evolution
The NCRM Launch, London, 19 Oct 2011
Prof Mark Birkin and Dr Andy Hudson-Smith attended the launch of the National Centre for Research Methods (NCRM) in London, which also marks the start of the TALISMAN project.