Leeds City Museum, 8 to 10 Nov 2012
The Smart Cities UCL exhibits were shipped north to Leeds City Museum for this 'northern' smart cities event. Local businesses, government agencies and research organizations were invited to a preview of the exhibits on the evening of 8 Nov 2012. The exhibit was then opened to the general public for two days (9 to 10 Nov 2012) where more than 1,500 people attended. View a time lapse video of the event. 
An overview of some of the exhibits is provided below. View more information about the event from the leaflet we produced.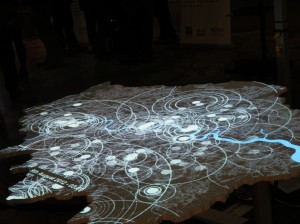 The London Data Table shows projections of various data feeds onto a physical scale model of the city of London.  The data which is shown includes numerous transport features including the movement of aeroplanes, underground trains, buses and even rented bicycles, as well as actual passenger flows based on Oyster card data which captures point of entry to, and exit from, the tube network through the week.  The display conveys a vivid impression of the 'pulsing heartbeat' of the city as its major arteries expand and throb during the morning and evening rush hours. Airborne pollutants are also displayed, with potentially great significance to pedestrians, cyclists, parents and epidemiologists.simulates the initiation and spread of rioting through personal contact and social networks.
The data table is a model of the city of London at a scale of approx 1m to 20km (i.e. 1:20000).  It was carved from wood using a laser cutter at a cost of about £120! Images are projected onto the model using controlled projections of coloured light sources.  This arrangement seems to provide a more evocative representation of the urban area than a more conventional screen-based layout.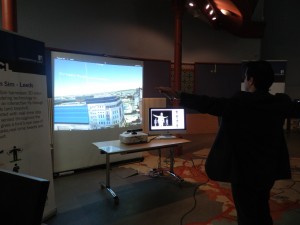 Pigeon Sim is simulator that emulates the flight path of a bird over the cities of Leeds and London, allowing the aerial exploration of local buildings, parks and other landmarks.
Visual identification of local features is supplemented by named tagging of selected features.  The London cityscape also allows tweets to be attached to particular locations in space and time, and includes other features such as tides, pollution levels and traffic patterns.
The exhibit is essentially a virtual tour through a high resolution image of the city in three dimensions.  Such images can be used by architects and planners to visualise the impact of new buildings, retail parks and so on. Similar techniques, with additional analytical capability, have been used to examine questions such as the visual impact of wind turbines in rural or wilderness areas.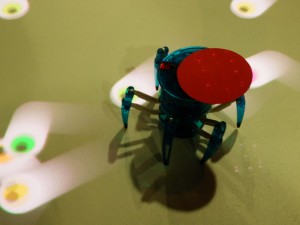 Roving Eye uses the idea of computer vision to enable pedestrians to recognise objects and to navigate their way around them.  By configuring objects in different ways, the flow of pedestrians around the space can be altered and controlled.
The pedestrians in the Roving Eye simulation can be considered as a group of agents interacting with one another and with objects in their physical environment.
The 'spiders' shown in the photo are a recent addition to the Roving Eye simulation.  These individual units are capable of detecting objects, including other spiders, and responding autonomously, i.e. to make their own decisions.
The development of models of agent behaviour has been one of the most exciting research areas for computational social scientists over the last ten years or so.  It is believed that many of the most complicated social science problems – such as the movement of pedestrians in streets and buildings – can best be tackled from the bottom up, by specifying relatively simple behavioural rules about the way that individual people act (for example, that they want to move between two places as quickly as possible, but avoiding people and other obstacles in their path).
Agent-based models have been used extensively in transportation research, for example to examine the behaviour of car drivers when faced with alternative routes, in health care, emergency planning, and crime. In a PhD project at UCL the re-design of Kings Cross Station was considered using agent-based simulation of a pedestrian evacuation model.  In research at Leeds the behaviour of criminal agents has been studied in relation to the desires, needs and opportunities of individual offenders; similar work has also been undertaken in relation to retail organisations and housing markets.