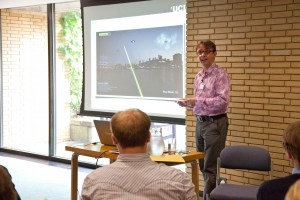 Dr Andrew Hudson-Smith is Director, Head of Department and Deputy Chair of the Centre for Advanced Spatial Analysis (CASA). He is Editor-in-Chief of Future Internet Journal, an elected Fellow of the Royal Society of Arts and Course Founder and Director of the MRes in Advanced Spatial Analysis and Visualisation at University College London.
His work has featured widely in the media including, Sky Television, The New York Times, The Guardian and most recently, Channel 4 News, New Scientist, Wired, ABC Australia, The Sunday Times, The Japan Times, BBC Radio 4 and BBC Radio 5.
With a research focus on location based digital technologies, he has been at the forefront of web 2.0 technologies for communication, outreach and developing a unique contribution to knowledge. He is author of the Digital Urban Blog and is an investigator on nine active research grants. His contribution to knowledge and outreach in the fields of digital geography, urban planning and the built environment have been wide ranging with an impact strategy focused on policy, outreach and the public understanding of science.